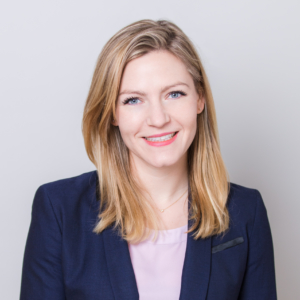 Christina Edling
Christina brings to Incandescent her passion for social enterprise, having worked for years advising clients at the intersection of doing well and doing good. Prior to Incandescent, Christina was a core member of the New York advisory team at Next Street, an economic development consultancy serving the nonprofits, small businesses, foundations, investors, and governmental agencies that make up the urban ecosystem. Her client work at Next Street allowed her to partner with businesses and organizations to solve the strategic, financial, and operational challenges that often accompany periods of rapid growth.
Christina began her career in investment banking, working for nearly three years at Houlihan Lokey, first as an analyst in Mergers & Acquisitions and later as part of the firm's Real Estate Strategic Advisory Practice. Looking for an opportunity to apply her financial acumen to the public sector, Christina spent a year with the Federal Reserve Bank of New York, analyzing transaction-level syndicated loan data for a panel of complex domestic and international banking organizations.
Christina graduated magna cum laude from Georgetown University with a degree in finance and international business, and spent a year with the École de Management Strasbourg, traveling to 15 countries and advancing her French. She has now repatriated to her favorite borough of Brooklyn, where she can often be found running/biking along the waterfront and catching up on back issues of The New Yorker.