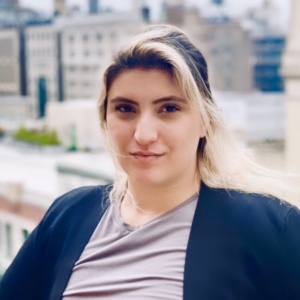 Kalie Marsicano
Kalie brings to Incandescent her passion for social change and her interest in aligning multi-sectoral actors to collaboratively address the world's most pressing issues.
Prior to Incandescent, Kalie served in the Secretary-General's UN COVID-19 Response and Recovery Fund, where she supported countries to mitigate the socioeconomic impacts of the COVID-19 pandemic. Kalie began her career at the United Nations Population Fund, the sexual and reproductive health and rights agency of the United Nations, where she focused on nurturing stakeholder relations and fostering global advocacy for the rights of women, girls and young people around the world. Kalie also serves in a volunteer capacity to support fundraising, communications and partnerships for Destiny Reflection, a social business that enables survivors of human trafficking and sexual exploitation in Kolkata, India, to access psycho-social support and gainful employment.
Kalie graduated magna cum laude from Dartmouth College, where she was granted the Hannah T Croasdale Award for the Senior who made the most significant contribution to the quality of life for women at Dartmouth. As an undergraduate, Kalie studied Political Science and Spanish, and spent three terms working and learning abroad in Spain, Costa Rica and Cuba. In her free time, she enjoys exploring the world, mentoring fellow first-generation college students, practicing yoga and singing classical and broadway tunes.