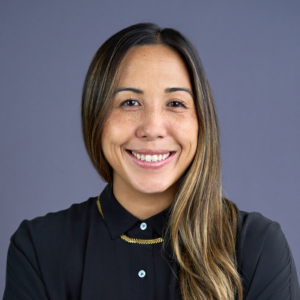 Kara Hayward
Kara works with clients ranging from Fortune 500 companies to investors, ventures, and nonprofits. She loves to help leaders and teams work through the hardest strategic and organizational development challenges they face. Over the past decade, she's helped leaders and groups tackle questions like: How do we take decisive action with confidence in an increasingly complex environment? In what ways does our organization need to evolve how we work to tackle a changing set of problems? How must I as a leader change the way I show up in order for this strategy to take flight?
Prior to Incandescent, Kara was a leader at Next Street, where she advised small-to-midsize businesses and nonprofit organizations on growth strategy and worked with multi-stakeholder groups across the country partnering to strengthen their small business infrastructure. It was through this work of coalition-building that she became obsessed with the question of how individuals and groups with different but overlapping priorities can work together better - and what it takes for such groups to truly cohere around (and collaborate on) a shared vision.
Earlier in her career, Kara was part of Deloitte Consulting's Strategy and Operations practice, where she served manufacturers, financial institutions, and entertainment companies. She left Deloitte Consulting to help stand up Bonafide Health's direct-to-consumer eCommerce platform and launch their first line of women's health products.
Kara is a passionate student of the emotional life of organizations and how emotions shape culture and decision-making. She recently completed CFAR's Dynamics of Consulting program, focused on engaging the emotional terrain of individual and group decision-making inside organizations, and is a member of the International Society for the Psychoanalytic Study of Organizations (ISPSO).
Kara graduated from Wesleyan University with a degree in Economics and spent a year at the London School of Economics studying Human Geography, learning about how groups and cities shape one another. In her free time, she's likely doing one of three things: Putting in time at the boxing gym, wandering NYC with her husband Roey and dog Marlowe, or hiking in a foreign country.