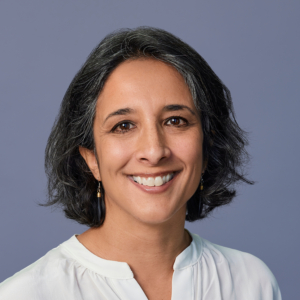 Shanti Nayak
Shanti's work at Incandescent spans sectors, focused on critical issues of people, culture and talent, and on shaping strategy for complex systems change issues. In her work with corporate, philanthropic and nonprofit leaders, Shanti brings a focus on strategy, and on the people (and capabilities) that bring strategy to life. Shanti enjoys thinking deeply with clients about how culture can reinforce the fundamental strategic "why" of an organization, and is particularly interested in the challenges that organizations face at key points of inflection.
Over the course of her career, Shanti has built and led teams across sectors. Before joining Incandescent, Shanti served for four years as the Chief Operating Officer for the New York State Office of the Attorney General. Prior to her time at the Attorney General's office, Shanti served as the Chief of Staff & Operations for the Roosevelt Institute.

Earlier in her career, Shanti spent seven years at the consulting firm Katzenbach Partners, where she served clients across industries, including pharmaceuticals, financial services and media. She then became Chief People Officer, responsible for all elements of the firm's people and talent strategy, and served as a member of the firm's management team. Subsequent to the sale of Katzenbach Partners to Booz & Company, Shanti became a Director, helping spearhead integration efforts, while also helping develop a global people strategy for Booz & Company.

Shanti earned an A.B. from Smith College and an M.P.P. from the Kennedy School at Harvard. She loves exploring the wild & green places within and beyond New York City, tinkering in her Brooklyn kitchen, and having all manner of adventures with her two daughters.